By Austin Kent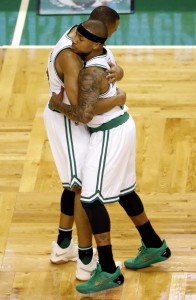 We're back with the latest edition of Hoops Links, one that will make you appreciate the joys of the NBA blogosphere as much as we do. Now, with the Finals in the rear-view mirror, celebrating good original content is as important as ever.
Once a week we round up the best content that we come across while obsessively perusing the internet and now you can help. Find a blog article that you think deserves a shout out next Thursday? Send it my way on Twitter (@AustinKent). Even if you wrote the blog yourself, nominate it for inclusion in future editions.
Remember, keep things limited to Cavaliers Era Shawn Kemp, relevant, original and fresh.
---
The Celtics have plenty of decisions to make over the course of the next few years, especially since their cap space projects to dry up after this offseason. Retaining their roster as is and signing a big name free agent in 2017 could put Boston in position to far exceed the luxury tax next season when it comes time to re-sign Isaiah Thomas and Avery Bradley. Jason Sullivan of You're Ducking Right recently broke down the pros and …read more